Pirooz (The Victorious) Center for Mental Health Wellness
Pirooz (The Victorious) Center for Mental Health Wellness is a grassroots initiative offering an evening Socio-Recreational programs improving and complimenting the overall care circle by addressing the non-clinical aspects of recovery.

The programs will offer opportunities for all consumers of the mental health services between the ages of 18 to 49 who are not in crisis to indulge in social interactions, by participating in series of supervised leisure and sports programs to meet, socialize, interact, exercise and feel motivated to engage in group activities.

There are also programs targeted to help the primary care circle, which falls frequently upon the family, most often the parents that can last a lifetime.

The Pirooz Center initiative programs are offered free to achieve the following goals:

Address the social isolation most felt by individuals dealing with mental health issues through programs promoting companionship and hope.

Offer Family Support that help the primary care givers maintain and live a more balanced and fulfilled life through various integrated programs.

Help with non-clinical issues such as isolation and lack of physical activities.

Promote involvement with supervised peer led support groups.

Educate and introduce the participants to the most recent alternative therapies such as Mindfulness Cognitive Behavioral Therapy (MCBT).

Organize Community based awareness forums on a larger scale reaching higher number of audiences striving to increase knowledge, understanding, compassion and reducing the stigma associated with prevalent Mental Illnesses.
Pirooz Center is currently exploring areas of collaboration with CMHAToronto. CMHA has over 60 years' experience providing mental health support to the Toronto community and provides recovery based programing to individuals experiencing mental health distress. One such program already offered and highly recommended is Family Outreach & Response Program focusing on recovery-oriented mental health support services to the families in Toronto. Please visit the website: http://familymentalhealthrecovery.org. Click on menu bar and select a suitable program.
Stay tuned for more information.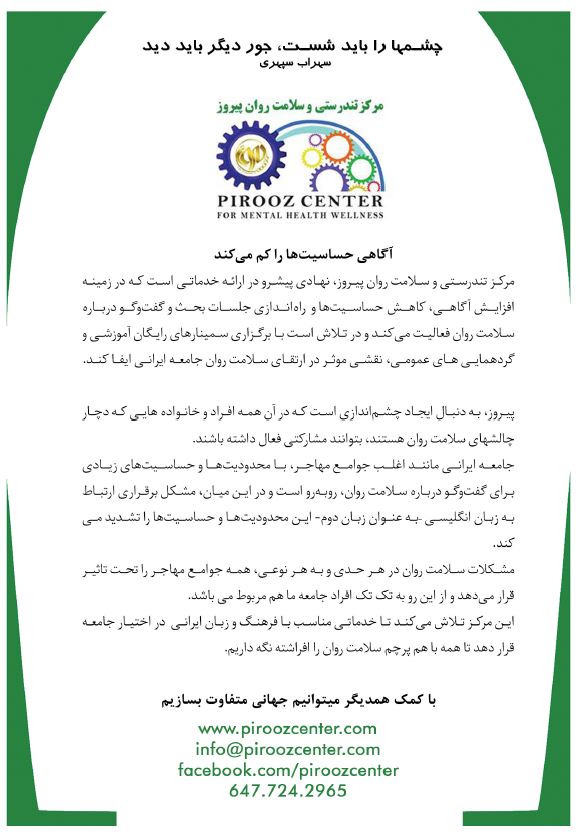 Enjoy quotes on popular topics like: Love, Life, Friendship, Success, Wisdom.

Check for additional resources and links here!